Epistemology: Contexts, Values, Disagreement
Review
Thanks to all the participants of the 34th International Wittgenstein Symposium (about 250 from 28 nations) and of the 3rd Wittgenstein Summerschool (sadly due to the enormous interest we had to turn away many), both events were great successes. On this page, you can find several documents related to the Symposium and/or to the Summerschool. If not made explicit otherwise, all documents and pictures are copyrighted by the Austrian Ludwig Wittgenstein Society.
The following events have taken place:
12 plenary lectures
125 lectures
and 6 social events.
Announcement
Kirchberg am Wechsel, 7th-13th of August 2011
Sections
1. Wittgenstein
2. Contextualism and Invariantism
3. Epistemic Virtues
4. The Value of Knowledge
5. Testimony and Related Issues in Social Epistemology
6. Disagreement and Epistemic Peerhood
Invited Speakers
Peter Baumann (Philadelphia)
Ansgar Beckermann (Bielefeld)
Sven Bernecker (Irvine)
Elke Brendel (Bonn)
Joachim Bromand (Bonn)
Georg Brun (Zu?rich)
Stewart Cohen (Tucson)
Marian David (Notre Dame)
Wayne Davis (Washington)
Catherine Elgin (Cambridge, MA)
Gerhard Ernst (Stuttgart)
Eugen Fischer (Norwich)
Sanford Goldberg (Evanston)
Alvin Goldman (New Brunswick)
John Greco (St. Louis)
Thomas Grundmann (Ko?ln)
Edward Harcourt (Oxford)
Andreas Kemmerling (Heidelberg)
Michael Kober (Freiburg)
Nikola Kompa (Bern)
Dirk Koppelberg (Berlin)
Andreas Koritensky (Paderborn)
Hilary Kornblith (Amherst)
Martin Kusch (Wien)
Jennifer Lackey (Evanston)
Nenad Mis?c?evic? (Budapest)
Katherine Munn (Oxford)
Bruno Niederbacher (Innsbruck)
Erik Olsson (Lund)
Christian Piller (York)
Richard Raatzsch (Wiesbaden)
Baron Reed (Evanston)
Hans Rott (Regensburg)
Sebastian Schmoranzer (Ko?ln)
Severin Schroeder (Reading)
Gerhard Schurz (Du?sseldorf)
Nicholas Shackel (Cardiff)
Mark Siebel (Oldenburg)
Miriam Solomon (Philadelphia)
Marcus Werning (Bochum)
Marcus Willaschek (Frankfurt)
Meredith Williams (Baltimore)
Accepted Paper Contributions
Aeschbacher, Dominik
Anglberger, Albert and Feldbacher, Christian
Arruda, Alberto
Baumberger, Christoph
Bazzocchi, Luciano
Beale, Jonathan
Beran, Ondrej
Beristain, Cecilia
Bowell , Tracy and Kingsbury, Justine
Brice, Robert
Briesen, Jochen
Brown, Jessica
Cash, Luke
Coliva, Annalisa
Czarnecki, Boles?aw
Czarnecki, Tadeusz
Dabagh, Soroush
Dabagh, Hossein
Dierks, Nicolas
Eckerson, Sarah
Eder, Anna-Maria
Fenk, August and Fenk, Lorenz
Fox, Craig
Franken, Florian
Freitag, Wolfgang
Frühstückl, Robert
Fürst, Martina
Geerards, Marc
Gierlinger, Frederik
Giesewetter, Stefan
Gonzelz Castan, Oscar Lucas
Greenberg, Joseph
Gstöhl, Florian
Hagemann, Gunnar
Harrison, Britt
Hauthaler, Nathan
Hetmanski, Marek
Hintikka, Jaakko
Hofbauer, Helmut
Hojjat, Minoo
Jureschi, Livia
Kapusta, Andrzej
Kasaki, Masashi
Kästle, David
Kindermann, Dirk
Kirschenmann, Peter
Kletzl, Sebastian
Koistinen, Timo
Körner, Stephanie
Kruse, Andrea
Kubalica, Tomasz
Kvart, Igal
Laktionova, Anna
Lee, Mathew
Lin, Min-Hui
Lobis, Ulrich
Lobovikov, Vladimir
Löwenstein, David
Macha, Jakub
Machado, Alexandre
Max, Ingolf
Mayer, Annelore
Mayer, Johannes Leopold
Melchior, Guido
Methven, S.J.
Mezzadri, Daniele
Mitova, Veli
Mößner, Nicola
Moyal-Sharrock, Daniele
Ndayambaje, Juvenal
Negru, Teodor
Nomura, Yasushi
Osa, Tom Eide
Panda, Mamata
Panda, Ratikanta
Pichler, Alois
Pisconti, Rossella
Radzki, Mateusz
Richtmeyer, Ulrich
Riegelnik, Stefan
Rothhaupt, Josef
Rump, Jacob
Sager, Karl-Heinz
Schiller, Arvid
Schmechtig, Pedro
Schmid, Ulla
Schmitz, Friederike
Schüssler, Rudolf
Schuster, Radek
Seide, Ansgar
Silva, Marcos
Smith, Deirdre
Somavilla, Ilse
Speck, Jönne
Stei, Erik
Stelzner, Werner
Szeltner, Sarah Anna
Thonemann, Philipp
Trela, Grzegorz
Tsobanopoulou, Fenia
Villarmea, Stella
Weingartner, Paul
Wenzel, Christian
Westergaard, Peter
Wirrwitz, Christian
Wright, Sarah
Documents
Publications
Jäger, Christoph / Löffler, Winfried
Epistemology: Contexts, Values, Disagreement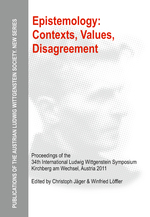 Proceedings of the 34th International Ludwig Wittgenstein Symposium in Kirchberg, 2011
Pictures