Mind, Language and Action
Review
Thanks to all the participants of the 36th International Wittgenstein Symposium and of the 5th Wittgenstein Summerschool (sadly due to the enormous interest we had to turn away many), both events were great successes. On this page, you can find several documents related to the Symposium and/or to the Summerschool. If not made explicit otherwise, all documents and pictures are copyrighted by the Austrian Ludwig Wittgenstein Society.
The following events have taken place:
11 plenary lectures
180 lectures
and 5 social events.
Announcement
Kirchberg am Wechsel, 11th-17th of August 2013
Scientific Organizers
Danièle Moyal-Sharrock
Annalisa Coliva
Volker A. Munz
Sections
1. Wittgenstein
2. Enactivism and extended mind
3. Memory
4. Language-acquisition
5. Intentional mental contents (and qualia)
6. Forms of agency
Invited Speakers
David Bakhurst (Kingston, Ontario)
Louise Barrett (Alberta)
Chantal Bax (Amsterdam & Nijmegen)
Sven Bernecker (Vienna)
Anat Biletzki (Quinnipiac, CT & Tel Aviv)
Clotilde Calabi (Milan)
Anne-Marie Søndergaard Christensen (Odense)
James Conant (Chicago)
Cora Diamond (Charlottesville, VA)
Jerome Dokic (Paris)
Shaun Gallagher (Memphis, TN)
Hans-Johann Glock (Zurich)
Laurence Goldstein (Canterbury)
Ian Ground (Newcastle upon Tyne)
Garry Hagberg (Annandale-on-Hudson, NY)
Jennifer Hornsby (London)
John Hyman (Oxford)
Camilla Kronqvist (Turku)
Paolo Leonardi (Bologna)
Diego Marconi (Turin)
Elise Marrou (Paris)
Anat Matar (Tel Aviv)
Sofia Miguens (Porto)
Gabriele Mras (Vienna)
Erik Myin (Antwerp)
Elizabeth Pacherie (Paris)
Christopher Peacocke (New York, NY)
Luigi Perissinotto (Venice)
Sabine Plaud (Strasbourg)
John Preston (Reading)
Ursula Renz (Klagenfurt)
Josef Rothhaupt (München)
Paul Standish (London)
David Stern (Iowa City, IA)
John Sutton (Sydney)
Julia Tanney (Kent)
Charles Travis (London)
Michael Tomasello (Leipzig)
Paolo Tripodi (Turin)
Publications
Moyal-Sharrock, Danièle / Munz, Volker / Coliva, Annalisa
Mind, Language and Action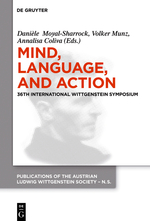 Proceedings of the 36th International Wittgenstein Symposium
Pictures