The detailed submission instruction will be posted here.
— Please note that we have experienced difficulties with older browsers like Internet Explorer. Please consider using a modern browser (Edge, Firefox or Chrome). If you still have difficulties, please just contact joseph.wang@uibk.ac.at.
Due to the new General Data Protection Regulation, we have to change the process of paper submission. The following document describes how we have to collect data in order to process your submission.
Getting a Submission Link
In order to get a submission link, you will have to go to the following link:
Please click on "HERE" to get a submission URL. After passing the Captcha test you will have to enter your personal data (name and email-address) to obtain a link. We will also ask you to accept our data protection terms in order to be able to process your submission. The link will be sent to your email-address.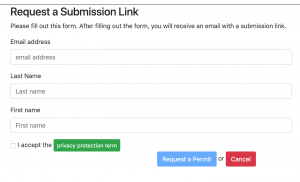 Enter the data and upload the files
Using the submission link, you will be taken to a page where you can submit your paper. We will need the following information:
Name and location (city and country) of each author
Title and section of the paper
A file containing the abstract
A file containing the paper
(optionally) additional files (e.g. figures, pdf print outs etc.)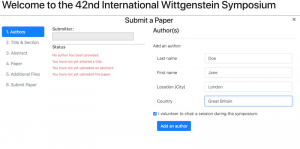 After successfully submitting a paper, you will also receive an email on the submission.
Usage of Email-address
Only the person who has submitted the paper using the link will get any emails from us. We do not collect author's email-addresses. We will contact you in the following cases:
After you have submitted the paper, we will send you an email acknowledging that the submission was successful.
If there is any formal or technical problems with your submission, we will contact you through email.
We will inform you on the result of the review.
Any other emails concerning either your submission or your participation on the symposium.
Few people have access to the email-addresses and personal data in the database: The office of ALWS,  the organizers of the symposium including editing personal, the reviewers, and the system administrator. We will not give these data to any third party without your consent.
The database will be erased after the symposium has taken place.